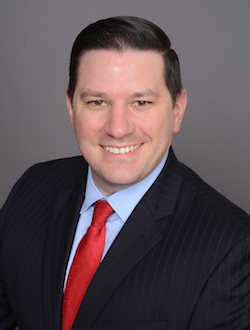 David L. Burdett
david@kleinburdettlaw.com
Download VCard
Phone: (800) 536-0501
Fax: (215) 599-3053

Please call us for the nearest office location
25 office locations in 20 Counties throughout Pennsylvania
Corporate Office:
25 W Court St
Doylestown, PA 18901
I am a former Assistant District Attorney with personal experience in thousands of Criminal cases, ranging from minor traffic offenses to homicide. Over the past 5+ years of practice I have worked with thousands of police officers and have appeared in court daily in countless courtrooms. I have a familiarity with the criminal justice system that few attorneys possess. I know what issues to look for in an officer's criminal investigation to fight to help you to achieve the best possible outcome.
My Story
I grew up in New Jersey, but I decided to settle down in Pennsylvania after attending the Villanova University School of Law. I live with my wife, son, and Boston Terrier, Bruce. When I am not in court I enjoy spending time with my family, taking my son to swim class, running, and playing golf. Prior to becoming an attorney, I was a professional stage actor performing in plays and musicals across the country from New Hampshire to Florida and Arizona. My performing training has served me very well as a litigator making me very comfortable speaking in court and making arguments to a judge and jury. I love the drama in the courtroom and I am able to utilize my training as an actor to get the best results for my clients. I also love movies and can talk for hours about some of my favorite films. Specifically, I love the music and films from the 1930s and 1940s.
My Unintentional Path to Becoming a Lawyer
After college I performed professionally as an actor for about five years. I loved the craft and being in a performing company. However, I had no stability in my life as I was taking contracts all over the country and constantly being unemployed as each contract ended. I was looking for a steady career because I wanted to be able to get married and have a family. I knew I wanted to help my community and I was interested in becoming a police officer. I took an intro to criminal law class at Rutgers and when we learned about the role of a prosecutor, I knew immediately what I wanted to do with my life.
I went to the Villanova University School of Law and that experience changed my life. I did not enjoy being in class for the most part as reading an infinite number of cases from the 1800s did not provide a wealth of practical skills for a future attorney. Instead, being a student provided me an on-campus interview and eventual internship with the county District Attorney's Office. Following my second year of law school I began that summer long internship that strengthened my desire to become a prosecutor. During that summer I handled hundreds of criminal cases, where I was responsible for making sure that charges were held at preliminary hearings before a magisterial district judge. It was my job to decide which witnesses to call, prep witnesses, make objections, and make a final argument to the judge as to why the charges should be held. I dealt with everything from the theft of a $1.50 ice cream bar, to a man possessing an illegal sword with brass knuckles for a grip, to very serious domestic assaults. As you can imagine every day was different and you never knew what to predict. It was thrilling to be in court every day.
I ended up working for the District Attorney's Office as an intern and then as an Assistant District Attorney for over four years. I enjoyed my work and the challenges it presented. By the time I left the office I had handled numerous jury trials for serious felony offenses. I learned that I enjoyed jury trials as they allowed me to combine my legal knowledge and theatrical abilities in a natural way.
As a young Assistant District Attorney, I had cases against criminal defense attorneys with decades of experience. I learned how to anticipate and counter all the various tactics they would use to attack my case. Those experiences ended up preparing me to be a Defense Attorney as they showed me how to look for and find issues in a criminal investigation. I ended up being involved with thousands of cases at the office ranging from traffic tickets to criminal homicide. I loved my time at the office, and I learned a lot about how to be a good attorney.
Why Call Us?
EXCLUSIVE PRACTICE - My practice is limited to Criminal, DUI and Traffic defense cases. I am not a general practitioner who handles many different types of law. Criminal law has been my only practice area since I became a lawyer.
CUSTOMER SERVICE - I treat clients the way I would want to be treated if I was experiencing legal problems – with honesty, kindness and respect. I will not tell you what you want to hear. Instead, I will give my honest advice based on my experience to inform you of the potential outcomes for your specific case. I will take time and patience to explain what to expect with your case, even over the phone. Additionally, my staff is well-informed and very helpful if I am not in the office when you call.
FREE IN-DEPTH CONSULTATIONS - I gladly talk to new clients over the phone, for as long as you wish. I will answer every question that you have over the phone, or even in person if you prefer, for free. I will gladly explain all of your options, give you my honest opinion about what could happen to you and I even quote a fee and a flexible payment plan, right over the phone. I believe that an informed client is the best client. Again, if I was having legal problems, that is the way that I would want to be treated.
Education
J.D., Villanova University School of Law, 2014
Moot Court Board-Director of External Competitions, Winner of Outstanding Board Member Award
B.F.A., Emerson College, 2007
Jurisdictions Admitted to Practice Pennsylvania, 2014
New Jersey, 2014

Featured Cases and Matters
I had gotten a dui charge and really did not know much about the process. I called David looking for legal counsel and representation with regards to this matter. From our initial meeting, up to trial and even after he has always been professional and understanding. He clearly knows his way around the court room and has a personal and professional relationship with all of the important people at the courts. Because of his legal acumen and his relationship with the court David was able to get me the most favorable outcome that I could have ever hoped for. Because of this, if I ever find myself in a compromised legal position again or know Anyone who is, I would seek his counsel. He truly did a tremendous job and can't say enough about how he handled it from start to finish. - Frank, DUI 2019
I was facing 8/9 points after a minor traffic accident on PA Tpke, David spoke independently with both my wife and I and gathered as much information possible. David directed me to take steps and document them in preparation for my court appearance. David had good knowledge of the people we would be facing in court and was instrumental in obtaining an amazing outcome of two of three citations being dismissed and the third being reduced to non-points. - Paul, Careless Driving / Traffic Accident, 2019
Mr. Burdett represent me for a DUI. I'll just say first that Dave put my mind at ease as much as was possible for the situation -- he explained every step of the process to me as it came along, and always kept in contact the whole way, never making it feel like an annoyance or burden when I needed to talk to him. The main thing I want to thank him for, though, is that he kept fighting for me even after we both had been told that there was no chance of getting the A.R.D. program. I have no doubt that I would not have gotten this program if it had not been for Dave, and I can't thank him enough. - Anonymous, DUI, 2019
David was amazing. I had been charged with a felony and a misdemeanor. I contacted him and we did the free conciliation, and I was told how my case looked. It was domestic charge, so I was not allowed to be at my residence, or contact my wife. When David and I had the preliminary hearing he got the judge and officer to let me go home again, giving me the opportunity to be with my family for the holidays. At the final arraignment David got them to drop the felony charge and avoid jail time. Also it resulted in just 6 months probation, which in a case like that is a very good outcome. Thanks to David. Would definitely recommend him to anyone. - Anonymous, Domestic Assault, 2019
David is extremely knowledgeable in criminal defense and he is the only person I would ever consider to represent me If I should ever need representation again. Very personable and makes you feel very comfortable with awkward situations. He got 2 counts of simple assault reduced to 2 summary citations for me. - Harold, Simple Assault, 2018